Elements of a Successful Therapeutic Business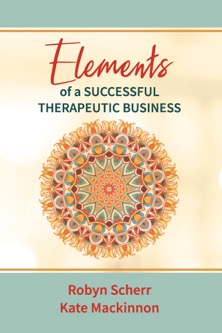 Now available! Kate Mackinnon and I are excited to announce our business book for therapeutic practitioners is available everywhere books are sold.

Far too many skilled therapeutic practitioners struggle to build and maintain their businesses. Whether it's a lack of business education or a mindset about the nature of business that gets in their way, they're denied a right livelihood and their community is denied the benefits of their healing work. We want as many people as possible to have access to highly effective therapeutic work. That means having plenty of successful, highly skilled therapists to serve them. Elements of a Successful Therapeutic Business is a focused exploration aimed at practitioners in private practice.


Clinical Mentorship for CranioSacral Therapy Practitioners

Let me be blunt: it's impossible to integrate all that's presented to us during class time. We often only learn what we've learned or discover the gaps in our knowledge in the months that follow, while practicing with clients.

Questions and doubts inevitably come up, and unfortunately many of us stumble along, waiting for the next class (or rushing to it) to get our questions answered and our technique corrected, as we try to learn still more new material.

It's an inefficient way to learn our craft. But we don't have to go it alone. I strongly encourage you to find mentors who can help you forge your CST path.

In my experience, the truly great practitioners, to a person, have all sought out supervised practice time and mentoring. They engage with more advanced practitioners to refine their skills and deepen their work.

I owe a great deal of my skill as a practitioner to the mentoring I received (and continue to receive): getting my own sessions, reviewing my cases with more experienced practitioners, working in a multihands group, attending study groups, and working directly in session with my mentors.

It takes time and dedicated effort to discover your unique approach to working within the CST paradigm: to engage without overpowering; to keep a client focus; to palpate precisely without invading; to use imagery and dialog skillfully; to maintain a neutral, supportive therapeutic presence; to work effectively and not drain your own well. Business skills and practice ethics can be challenging, as well.

As a UI-certified mentor, I provide clinical mentorship for practitioners at all stages of practice: from right after your CS1 class through techniques and diplomate certification (and beyond). In our work together, you'll discover what it means (in your mind and in your hands) when we say: "blend and meld, and treat what you find." (hint: it changes as you grow!)

I come to mentorship with a variety of skills that may serve you: my practice is thriving and has been full to the brim for many years, with clients of all ages from varied cultural backgrounds and presenting a full range of personal goals and medical conditions; I've performed and presented CST in many settings (solo practice, multihands and intensives, hospitals and medical in-service, groups of laypeople); I am a published writer on CST and an experienced editor and health educator; I taught for my business coach after successfully building my business.